About Us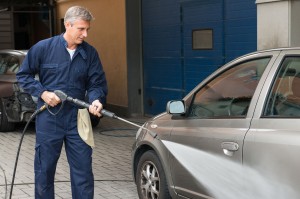 At "Gulfport Auto Detailing", we have made a name for our company as a reliable car wash services provider
We are proud of the service that we provide.  We make  certain that it will be enjoyable and safe and that our customers will be completely, happily, satisfied.  We use only state of the art equipment to produce exceptional results.
Only the finest and most environmentally friendly chemicals are used.  Our prices are budget friendly and our service is fast and excellent.  You will be driving off the lot in your beautiful, shiny car in no time.
Our customers return time and time again because they know that they receive exceptional service.
We are very proud of our exceptional, congenial staff.  They have more than 10 years of experience in this industry.
We offer full service - if you wish.  You may have your vehicle completely cleaned, top to bottom, inside and out to restore the car's finish or, just do a quick drive through to remove the surface dirt, grime and salt.
Relax with a cup of coffee and surf the internet in your comfortable lobby while your car is being serviced.
Contact us for more information at (228) 697-1831
About Us
Gulfport Auto Detailing
Jeff's Showroom Auto Care
A little our work history over the years
RENO, NV
Reno Nissan, Mercedes, Ferrari
AMC Motors
Champion Motors
Teddy Bear Havis Subaru  [/red_tick_list][/two_columns_1] [two_columns_2][red_tick_list width="100%"]
Sierra Audi, Porsche & VW
Reno Honda
Reno Toyota
Harwell Motors (Vetts)
SLIDELL, LA
Lake Shore Chrysler
John Brown Olds
Levis Chevrolet
Slidell Nissan
GULFPORT, MS
D'Iberville Ford
Dees Chevrolet
Turan Foley
Astro Ford
Harbor Auto (Vetts)
Beachwood Motors
Downtown Motors
Headliners Plus
Sumrall Motors
Auto Outlet
Strickland Motors
Celebrity Limo
Contact Us
Gulfport Auto Detailing
2960 20th Ave. Unit 0 , Gulfport , MS. , 39501
Call Us: (228) 697-1831
http://gulfportautodetailing.com
Jupiter Skin Sidebar Banner
Contact Us
Gulfport Auto Detailing
2960 20th Ave. Unit 0 , Gulfport , MS. , 39501
Call Us: (228) 697-1831
http://gulfportautodetailing.com